PRIVATE FLUTE LESSONS (Online for now, Zoom or Skype)
SCHEDULING OPTIONS
Various scheduling options are as follows:
a) students coming for multiple consecutive days of lessons from anywhere in the world, up to six hours a day;
b) those who want lessons once or twice a month, for one to three hours a session;
c) those who seek a single lesson, from one to three hours.
Other than her performance travels on the road, Rhonda is able to be flexible to YOUR scheduling needs.    
WHAT KIND OF STUDENTS/CLIENTS?
Rhonda will teach any age player, though younger players may require a consultation, first.  The most desirable students are the ones who love to play, despite whether they will make it their profession!
RHONDA'S APPROACH TO TEACHING?
Rhonda's teaching is dedicated to reaching the heights of each individual's greatest potential, and helping you find your best freedom and expression in playing.
REQUEST MORE INFO FOR YOUR CHOSEN SCHEDULING-OPTION (please be specific)
PRIVATE CONSULTATION VIA ZOOM, SKYPE OR PHONE
Have you ever wished you could simply TALK to someone—about your career plans or its challenges; advice in finding your own niche; to bounce your ideas off of, etc?  Rhonda offers this opportunity in both 30-minute sessions, or one-hour sessions. The fee is nominal, in order to make this available to as many flutists as possible.  Consultations are online  through Zoom or Skype, or via telephone.  REQUEST MORE INFORMATION ON SCHEDULING YOUR CONSULTATION WITH RHONDA
MASTERCLASSES/PRESENTATIONS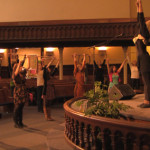 Rhonda teaches masterclasses all over the world. The format simply means a method of public-teaching:
a) "Rhonda's Rubrics": teaching multiple flutists all at one time in group participation (from one to three hours). Includes physical training warm-up, and (or) group flute phrases for technical improvement.
b) Standard music masterclass setting of teaching one flute soloist at a time, while the audience listens to the "public lesson" (lasting from one hour to multiple days with logical breaks in between. Day-long events are typically twenty to thirty minutes per performer).
c) Rhonda offering public lectures on various topics (from fifteen minutes to one hour). Topics include:
The Art of Performance;
The Business of Music;
How To Find Your Niche in Music;
Life as a Performing Artist;
Organizing an Effective Flute Event;
How to Teach Flute to Young Students (applicable also to Band Directors);
Exploring Ethnic Flutes;
and more…
Rhonda typically offers any requested masterclass or presentation as part and parcel of a public performance of her show, "Winds of the World".
REQUEST MORE INFORMATION ON BOOKING RHONDA FOR HER SHOW WITH MASTERCLASSES (please be specific)